Time is precious for all of us so its nice to know you can get all you need with one stop... Great Valu! It seems as though every store requires you to give up your personal information to enjoy their specials. Not Great Valu. We respect you privacy and your time. Just come into the store and save... it's that easy!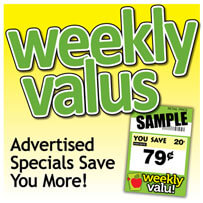 Weekly Valus Add Up To Great Savings
Keep your eyes open for the Weekly Valu signs throughout the store. They point the way to terrific savings on a wide assortment of things you need every week. These change every week so take advantage of the savings and stock up. Remember, you don't need a card to enjoy these savings!
Great Buys... All Month Long
Look for the Great Buy sign on the shelves on your favorite items. They represent great savings on the products you need. Don't worry about missing these special buys... they last all month long! Pick up an ad circular in store. And remember, you don't need a card to enjoy these savings!